Learn More About Bliley's New Ultra-Low Power OCXO!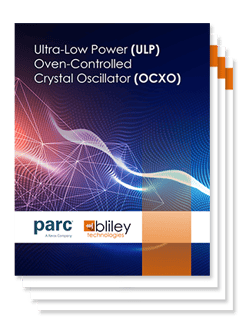 Military and Commercial customers have become more reliant on portable, battery-powered electronics that require low Size, Weight, and Power (SWaP).
Palo Alto Research Center and Bliley Technologies are jointly developing a new Ultra-Low Power (ULP) Oven-Controlled Crystal Oscillator (OCXO). The ULP OCXO will provide 3x improvement in Power and 2x improvement in Size when compared to legacy Low Power (LP) OCXOs.
Request your free white paper that covers, in detail, how Bliley and PARC are working to revolutionize the low-power oscillator industry with their new ULP OCXO!
Fill out the form on the right and your ULP OCXO white paper will be on the way! >>>