Low g-Sensitivity OCXO Oscillator
Shake. Rattle. Roll.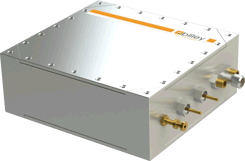 Poseidon 2 Key features include:
0.02 PPB/G acceleration sensitivity
-130 dBc/Hz phase noise @ 10Hz
±0.25 PPM 20 year aging
Ruggedized packaging
The Poseidon 2 g-Sensitivity OCXO is specifically designed for high vibration environments where dynamic phase noise performance is paramount.

The active compensation and passive isolation provide up to 100x improvement in acceleration sensitivity over standard oscillators.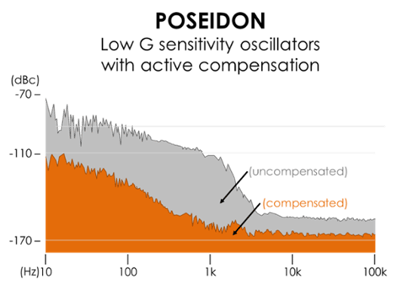 Poseidon 2 has acceleration sensitivity is as low as 0.007 PPB/G for all 3 axis of vibration and offers superior noise performance out to 1MHz offset.
Additionally, this Oven Controlled Crystal Oscillator offers:
Active and Passive Compensation for Best in Class Low g Performance

Excellent Frequency Stability Over

Temperature

Superb Long Term Aging

Customizable output frequencies between 5 MHz and 130MHz.
Poseidon 2 is well suited for: Ground Mobile, Airborne, and Shipboard environments.
"Poseidon 2 offers world class integrated phase noise performance even under extreme vibration profiles such as DO-160, and at an even more competitive price point than its predecessor," added Atul Dhuria, Sr. Director of Business Development, RF and PNT solutions segment.
Of course, Bliley has applied it's 85+ years of OCXO experience to make the Poseidon 2 one of the highest quality, lowest-cost, low g-sensitive OCXOs on the market today.
Instantly receive the full datasheet by completing the form provided.
We're excited to take your low-g application further!