AR133 Series Datasheet Download
Rubidium Frequency Standard Oscillator
The Bliley AR133 Series is a multifunctional Rubidium Standard designed to provide precision timing and reference frequency. It is one of the smallest atomic standards available without sacrificing performance.
AR133 Key features include: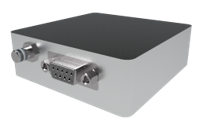 Long Term Stability 5E-11/month
-150 dBc/Hz phase noise @ 10kHz
5E-12 ADEV @ 100sec
8.25W steady-state power
1.8W steady-state power (Low Power Option)
3"x3" (77mmx77mm) package
Of course, Bliley has applied its 85+ years of oscillator experience to make AR133 one of the best performing rubidium frequency standard oscillators on the market today.
Instantly receive the full datasheet by completing the form provided.